About Us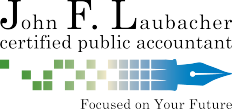 John F. Laubacher, CPA

- John is a 1977 graduate of San Diego State University and was awarded his CPA certificate by the State of California in 1981. He has a wide variety of experience in dealing with small- and medium-sized businesses, fiduciary planning and accounting as well as business, trust and individual tax preparation. He is a long-time member of both the AICPA and the CSCPA. Email: John@LaubacherCPA.com
Julianne Laubacher, CPA

- Julie is a 1981 graduate of Cal State Sacramento and was awarded her CPA certificate by the State of California in 1983. Her business expertise includes business, fiduciary and personal accounting, income tax preparation and business and personal budget analysis. She is also a long-time member of both the AICPA and the CSCPA. Email: Julie@LaubacherCPA.com

John and Julie are both lifelong residents of Ventura County. Active in the community, church and family life, they have four grown children and are the proud grandparents to Sam, Anna, Peter and Dustin!
Service is what we are all about. We launched our business in 1982 and have been serving Ventura County for over 35 years. We truly stay "Focused on Your Future!" We provide services in accounting and tax preparation for a wide variety of clients including:
Tax planning and preparation for businesses and individuals

Business planning and bookkeeping for small and medium-sized businesses

Estate planning and Fiduciary accounting

Visit the Contact Us page for information regarding how to reach us via telephone, fax, e-mail or mail.

Feel free to contact the office anytime. We're here to help.